TUMMY TUCK REVISION

BEFORE AND AFTER PHOTOS – PATIENT 9
This 45 year-old woman came to Plastic Surgery Body Contouring requesting to have a tummy tuck revision. Unhappy with her excess lower abdominal tissue despite a previous tummy tuck, the patient also felt that she still had upper mid-abdominal bulge that protruded out relative to her lower abdomen. Upon examination, she was found to have a W-abdominoplasty scar, a mild degree of laxity in her lower abdominal area and a moderate degree of bulge in her upper abdominal area. The patient underwent a full abdominoplasty revision and conversion to a high-definition tummy tuck.
During her tummy tuck revision, the patient's navel was again released, her upper abdominal tissue and skin were again undermined and her muscles were further tightened. Her upper abdominal tissue and skin were then pulled down by approximately 2 inches. A new navel opening was created and her old navel opening was closed off on itself. The navel was then pulled through and secured in position. She also received liposuction of her waist and flanks areas creating an hour-glass shape smoothening her abdominal contour. Finally, she was liposculpted enhancing her definitions bring out her abdominal muscle features. Her post-operative photos were taken approximately 3 months following her tummy tuck revision. At that point, her scars were still relatively pink and fresh. Over time her scars will continue to improve becoming fainter and more discrete within 12 to 18 months.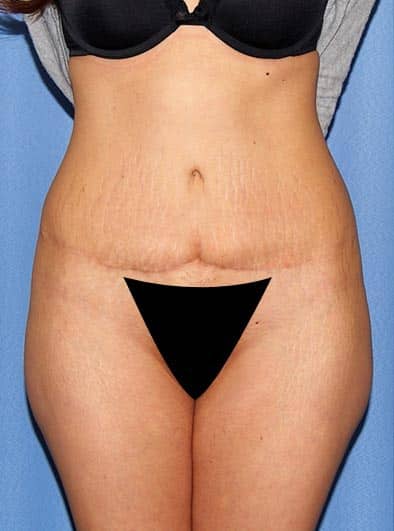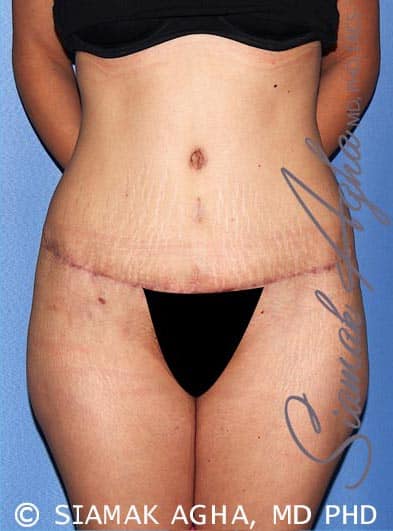 Once you have reviewed the before and after photos related to Tummy Tuck Revision Surgery, you may be interested in viewing the skilled work of Dr. Siamak Agha with Tummy Tuck, Liposuction and Mommy Makeover. By closely examining these before and after photos provided in this gallery, it may ease the consultation process, as you may possibly desire a similar result to a specific surgical case. Please feel free to request a consultation with board certified plastic surgeon Dr. Siamak Agha at the Plastic Surgery Body Contouring Center located in Newport Beach, Orange County. Dr. Agha and his experience staff are dedicated to providing the results you are looking to receive. Dr. Agha will listen to your concerns and answer any questions you may have; he wants you to feel comfortable and be prepared for your surgery.