TUMMY TUCK
BEFORE AND AFTER PHOTOS-PATIENT 10
This 37-year-old female presented herself to Dr. Siamak Agha of Plastic Surgery Body Contouring Center at Newport Beach. This patient decided to travel from San Diego with a request to undergo tummy tuck revision. The patient wanted to have a consultation with Dr. Agha to discuss her questions and concerns. She patient was unhappy with her lower abdominal deformity and concavity that was a result of liposuction and previous tummy tuck performed by a different surgeon. Although her tummy tuck incision was high on her lower abdomen, she had been able to cover it with a tattoo. This patient had already undergone a second corrective surgery by another surgeon but was still dismayed with her lower abdominal depression.
She was extremely pleased with Dr. Agha's persona and the results that he provided her with. He took his time and guided her along the entire surgical process. His caring and supportive staff is very professional and contributes to the wonderful experiences Dr. Agha's patients have.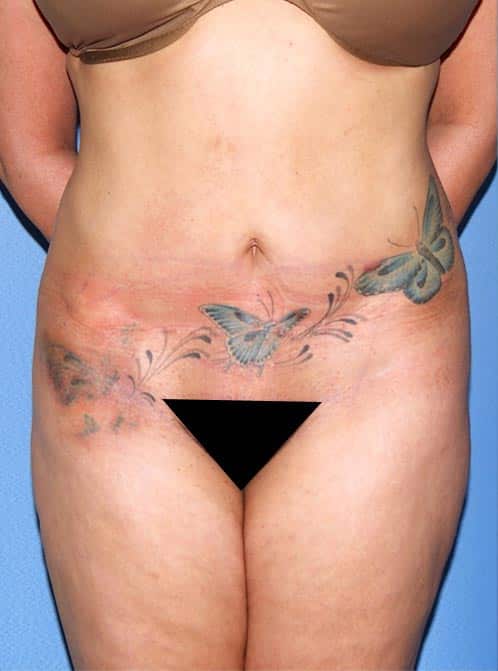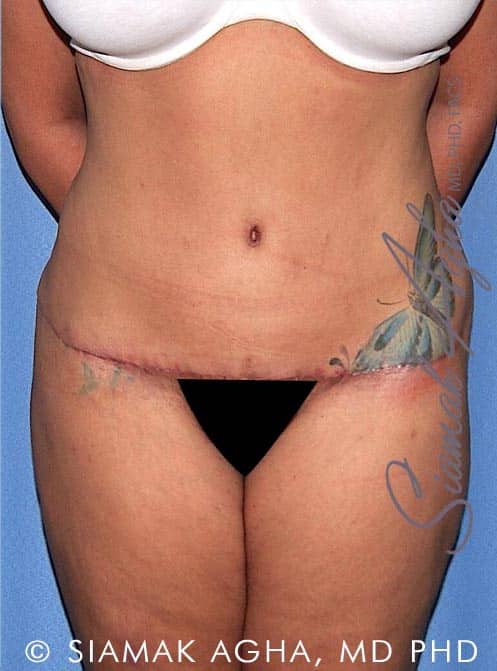 Once you have reviewed the before and after photos related to Tummy Tuck Revision Surgery, you may be interested in viewing the skilled work of Dr. Siamak Agha with Tummy Tuck, Liposuction and Mommy Makeover. By closely examining these before and after photos provided in this gallery, it may ease the consultation process, as you may possibly desire a similar result to a specific surgical case. Please feel free to request a consultation with board certified plastic surgeon Dr. Siamak Agha at the Plastic Surgery Body Contouring Center located in Newport Beach, Orange County. Dr. Agha and his experience staff are dedicated to providing the results you are looking to receive. Dr. Agha will listen to your concerns and answer any questions you may have; he wants you to feel comfortable and be prepared for your surgery.