TOTAL BODY LIFT

BEFORE AND AFTER PHOTOS – PATIENT 35
Orange County plastic surgeon, Dr. Siamak Agha consulted with a 37 year old female patient who expressed her desire to have a revision body lift plastic surgery. She traveled to Newport Beach from Washington D.C. for her total body lift surgery. Five months before consulting with Dr. Agha, the patient had a lower body lift in the Washington D.C. area and was unhappy with her results. She initially underwent body lift surgery after losing over 100 pounds as a result of laparoscopic Roux-en-y gastric bypass surgery.
Requested Procedures:
Dissatisfied with the appearance of her breasts, lower body, buttocks and thighs and having already endured a lower body lift just 5 months prior to her cosmetic surgery consultation, she expressed her dissatisfaction with the results. Specifically, there was still significant laxity in her thighs, uneven scarring on her lower body as a result of the shape and placement of the lower body lift scars. Additionally, she lacked any buttock enhancement. Her desire was to have a revision lower body lift surgery and include Dr. Agha's signature spiral thigh lift, fat transfer breast augmentation and breast lift surgery. Related to her thighs, she decided to proceed with liposuction to reduce the overall size and enhance her buttocks.
On Physical Examination:
Due to deflated and sagging breasts upon consultation, this patient also had asymmetrical breasts with her right breast being larger than the left and an incorrect direction of her right breast. She also had substantial skin and tissue laxity in both horizontal and vertical directions along with the overall disproportionate size of her thighs. She also presented with uneven body lift scars, pubic (mons) sagging and uneven and deflated buttocks.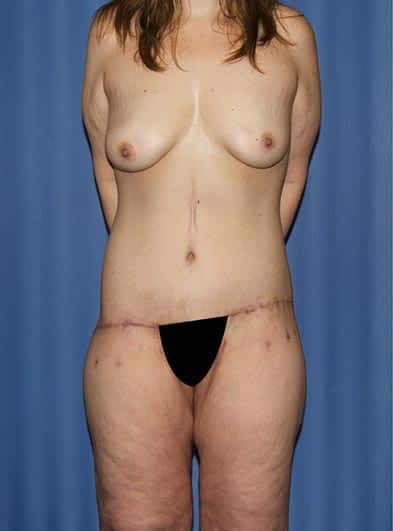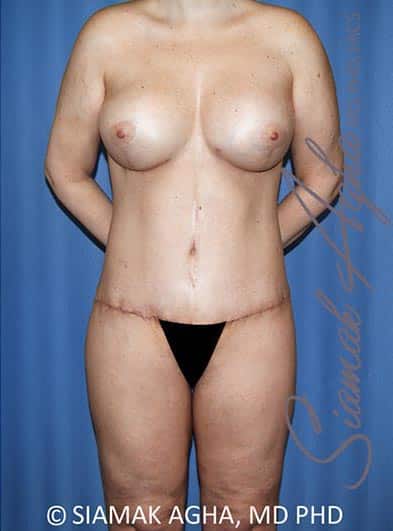 Surgery:
Dual stage body lift revision surgery, breast enhancement and thighplasty. Patient's first stage surgery included:
– Lower body lift revision
– Monsplasty to raise her pubic area
– Buttock lift revision to rid the excess lower back tissue while lifting the buttocks and revising the unevenness of the prior incisions
– Outer (anterior) thigh lift to raise the outer thigh and decrease the size of her waist
– Buttock augmentation with utilizing lower back fat
– Vertical thighplasty
– Liposuction of lower back and waist, thighs circumferentially
– Buttock fat transfer (Brazilian butt lift)
– Vertical Breast lift
This surgery lasted 7 hours. The patient recovered in the expected manner and amount of time for this amount of surgery. She returned to Dr. Agha 1 year later to undergo the 2nd stage of her surgery. Her second stage included:
– Spiral thigh lift (Dr. Agha's groundbreaking thigh lift procedure)
– J-upper body lift to reduce outer chest
– Scar revision surgery and tightening
– Liposuction of arms, saddlebags, knees, upper back, calves
– Buttock and breast fat transfer augmentation
Surgery Duration:
Patient's second stage surgery last approximately 6.5 hours.
Photos:
This patient's after photos were taken 4 weeks after her surgery and before she returned home.
Learn more about body lift revision surgery and body contouring by Newport Beach Plastic Surgeon, Dr. Siamak Agha.
In addition to performing about 40- 50 body lifts per year, Dr. Agha also performs a merit of other body contouring procedures, including tummy tuck, mommy makeover, liposuction, upper body lift, total thigh reduction, and buttock enhancement. Dr. Agha also performs several body lift redos per year. The latter are often more complex and challenging for both Dr. Agha and the patient. Contact his practice today at 949-393-4213 to learn about all of your procedure options. Please take your time to look at our extensive body lift galleries.