TOTAL BODY LIFT

BEFORE AND AFTER PHOTOS – PATIENT 36
This 22 years old female presented to Dr. Siamak Agha at Plastic Surgery Body Contouring Center in Orange County for breast augmentation and a lower body lift. The patient had lost over 100 pounds after bariatric surgery. The patient was unhappy with her breast size, lower body skin excess, buttocks deflation and sagging, and thigh laxity. Patient wished to undergo breast augmentation with implants as well as a lower body lift with buttocks enhancement. She wished to have her buttocks enhanced and to maintain her wider hips.
On examination by Dr. Agha, the patient was found to have breast deflation and sagging, minor breast asymmetry, significant fullness of her hips, thigh skin and tissue laxity in a vertical direction, abdominal tissue laxity and excess, waist excess, buttock deflation, and mons (pubic) sagging.
Dr. Agha performed a single stage breast and body contouring procedures that included:
Lower body lift with tummy truck and abdominal muscle tightening
Monsplasty to lift her pubic area
Buttock lift to remove the excess lower back and upper buttock skin while lifting the buttocks
Outer thigh lift to elevate the outer thigh and reduce the waist
Buttock augmentation with lower back fat pads
Liposuction of lower back and waist
Brazilian butt lift (buttocks fat transfer)
Breast augmentation with her chosen saline implant size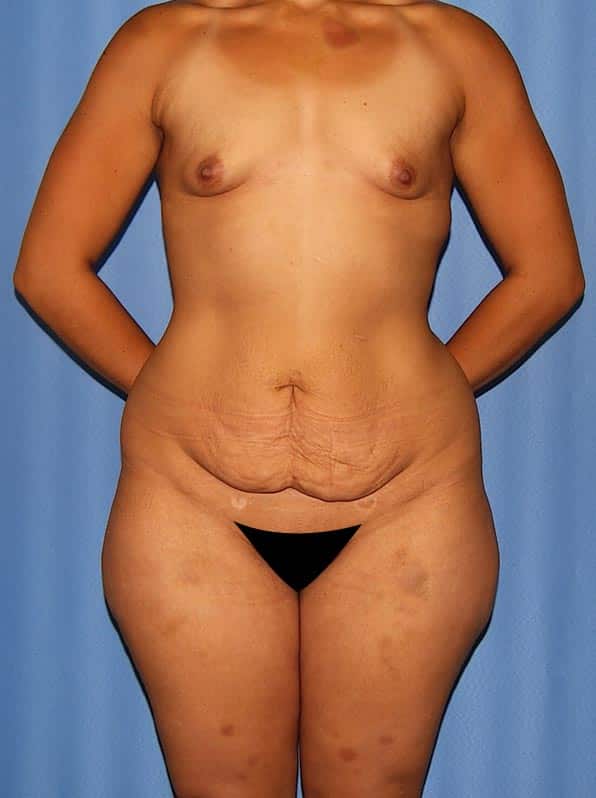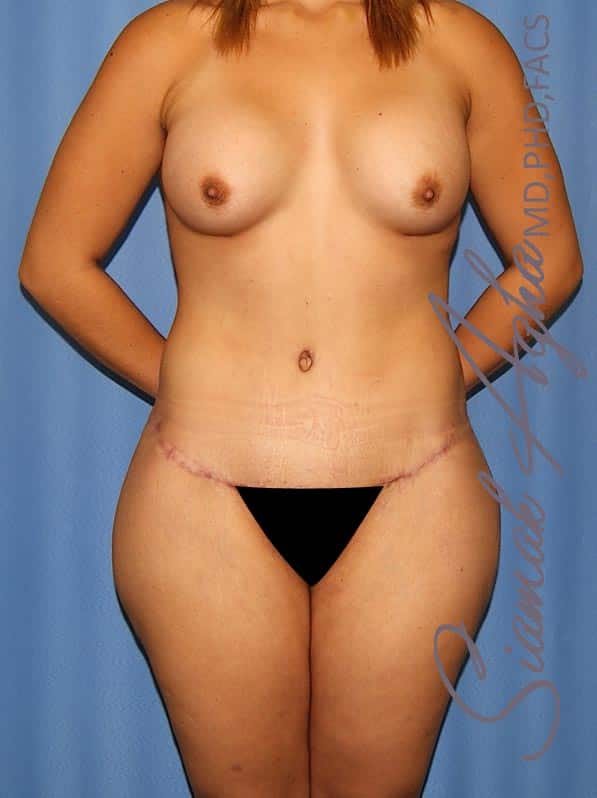 Patient's surgery took about 7.5 hours. Patient recovered well from these procedures.
Before and after pictures of body lift surgery. Her body lift post-operative pictures were taken at about 6 months after her breast augmentation and body lift surgery.
To learn more about body lift surgery and plastic surgery after weight loss, please visit Dr. Agha's website at www.plasticsurgerybodycontouring.com. Dr. Agha is an internationally recognized body contouring surgeon who is super-specialized in the extreme makeovers. He is considered to be one of the best body lift surgeon's in the world.
Question and Answers:
How much surgery is considered to be safe? There is no right or wrong answer to this question. Obviously for life-saving procedures, enough surgery needs to be conducted in order to save the patient's life. This can be surgery on multiple areas after an unfortunate trauma or motor vehicle accident or surgeries that can take over 24 hours of general anesthesia. However, when it comes to aesthetic procedures, the American Society of Plastic Surgeons recommends no more than 8 hours of cosmetic surgery. In our practice, Dr. Agha has noticed that patient's recover well from surgeries that take less than 8 hours but not so well when there is a lot more surgery that may take over 10 hours or so. Again this varies case by case, and there are many variable, such as medical history, nutritional status, age, fitness, etc. Given the fact that Dr. Agha has immense experience in body contouring surgery, he is able to complete a body lift with buttocks augmentation and inner thigh lift in about 7.5 hours. Also, he can perform an arm lift, breast enhancement and lift, and upper body lift in about 7 hours. Thus, most weight loss patients can accomplish a total body lift, safely, in 2 days of surgery.