FOREHEAD REDUCTION

BEFORE AND AFTER PHOTOS – PATIENT 1
Hairline Lowering Procedure
T
his is a 19 year old female who presented to Dr. Siamak Agha with a request to undergo forehead reduction in order to make her forehead proportional to her other features. Before the procedure, the patient's high hairline and large forehead were not proportional to the rest of her facial features, aging the patients overall appearance and making her face appear unsymmetrical.
During a 3 hour surgery, Dr. Agha advanced her hair-bearing scalp forward by 1 inch, excised 1 inch of non-hair bearing forehead skin, and sculpted her forehead bone. The frontal hairline was advanced so that the distance between the patient's hairline and eyebrows was proportionate to the distance between the patient's eyes, nose, and lips. These changes added an over all symmetry to her face and helped proportion her forehead to the rest of her facial features.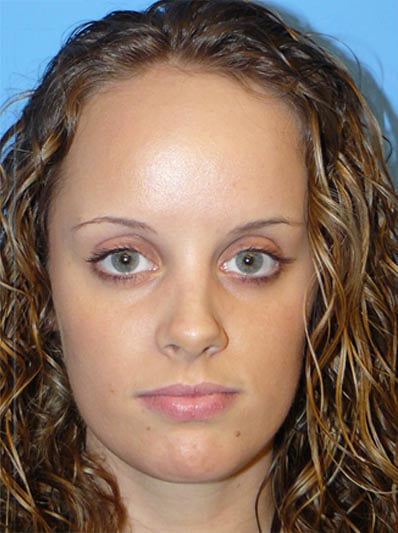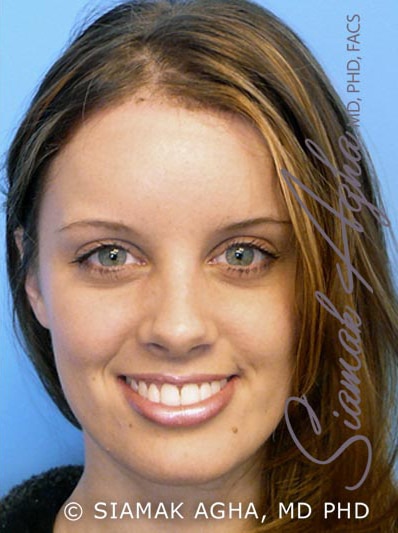 The patient's forehead now appears less tall and more narrow, while still appearing natural and proportionate. The operation appears natural because of the correspondence between the patient's hairline lowering and the patient's face shape, as well as hair growth along the scar. Scaring from this treatment is less visible than other procedures because with time hair will grow along the scar line, covering the scar and allowing for a natural look after surgery. A significant improvement in the size of the patient's forehead resulted in a younger appearance that is more compatible with her other facial features and a natural, proportionate, and symmetrical appearance to the face. Post-operative forehead reduction photos were taken at 6 months.