TUMMY TUCK

BEFORE AND AFTER PHOTOS – PATIENT 23
After her last pregnancy this 35-year-old female came to Plastic Surgery Body Contouring for liposuction of her love-handles and a tummy tuck. Upon examination by Dr. Agha, she was found to have fullness of her love handles and a moderate degree of abdominal tissue laxity and excess. The patient had a tummy tuck and liposuction of her flanks. Post-operative photos were taken approximately 6 months after her tummy tuck surgery.
As we all know pregnancies can take a major toll on your body; it can cause severe stretch marks, saggy skin, and excess fat. Often times, the saggy skin does not retract back to its original laxity and the excess fat cannot be lost with diet and exercise alone. This is why Dr. Agha takes pride in what he does; he loves to help patients feel beautiful again and to give them the confidence they deserve. The purpose of this patient's liposuction was to remove the excess fat and the tummy tuck was to help tighten up the skin and abdominal muscles giving the patients abdomen a more tightened and toned look.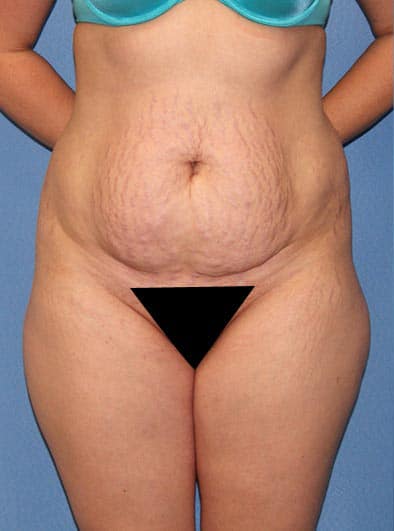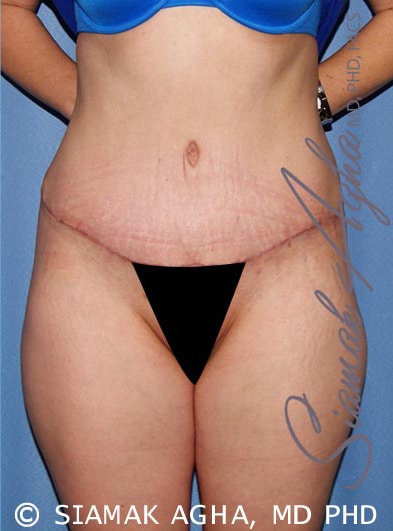 Once you have reviewed the before and after photos related to Tummy Tuck Surgery, you may be interested in viewing the skilled work of Dr. Siamak Agha with Tummy Tuck Revision, Liposuction and Mommy Makeover. By closely examining these before and after photos provided in this gallery, it may ease the consultation process, as you may possibly desire a similar result to a specific surgical case. Please feel free to request a consultation with board certified plastic surgeon Dr. Siamak Agha at the Plastic Surgery Body Contouring Center located in Newport Beach, Orange County. Dr. Agha and his experience staff are dedicated to providing the results you are looking to receive. Dr. Agha will listen to your concerns and answer any questions you may have; he wants you to feel comfortable and be prepared for your surgery.