HIGH-DEFINITION LOWER BODY LIFT

BEFORE AND AFTER PHOTOS – PATIENT 67
Lower Body Lift, Buttocks Augmentation and Spiral Thigh Lift
This 57 year old patient presented to Dr. Siamak Agha from New York to undergo a Lower Body Lift surgery. The patient was specifically unhappy with her abdominal contour and bulge, pubic laxity, fullness of the right flank dimpling and skin laxity of her thighs, as well as drooping of her buttocks. The patient wished to undergo a lower body lift with buttocks enhancement to correct her areas of concerns. She was also unhappy with the back of her thighs as well as inner thigh folds and wished to undergo a Spiral Thigh Lift – the procedure pioneered by Dr. Agha and Hurwitz.
On examination Dr. Agha noted that the patient has lower body laxity of the aforementioned areas. Patient's lower buttocks were deflated and sagging and she had banana rolls under her buttock cheeks. Patient's outer thighs also had skin laxity appearing as folds of skin over the thigh contour. Examination of the patient's abdomen was remarkable for abdominal skin excess and contour irregularities. Patient also had inner thigh skin access and laxity and thigh front dimpling and cellulites.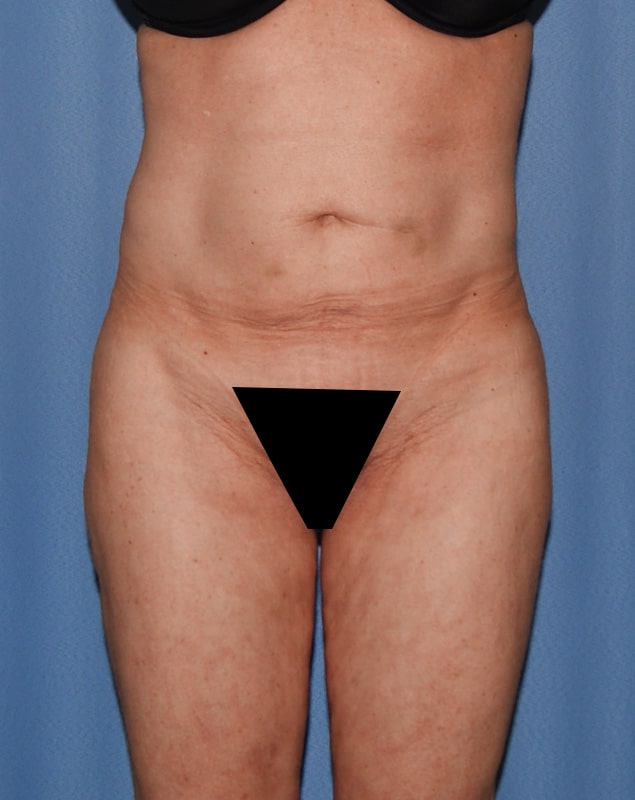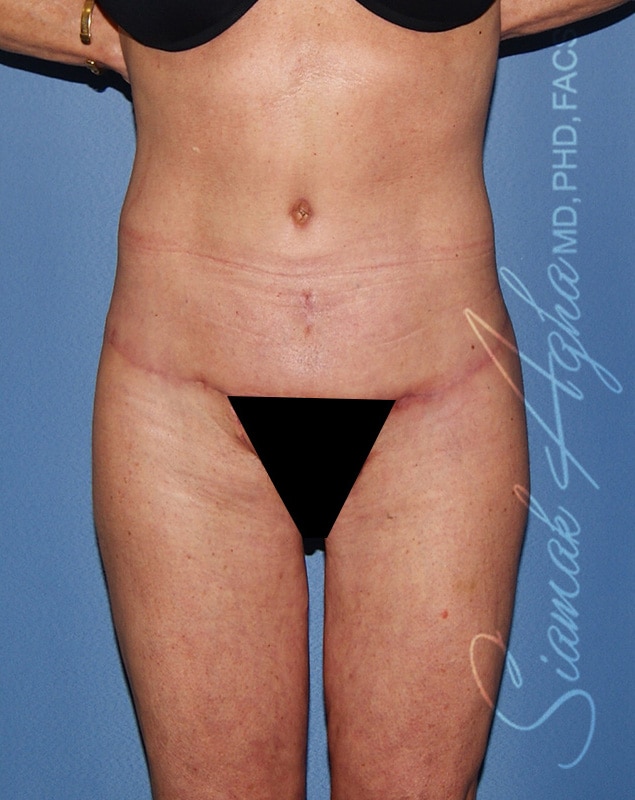 During an 8 1/2 hours surgery, Dr. Agha performed a Lower Body Lift on the patient as well as buttocks augmentation and spiral thigh lift. The breakdown of the procedures include a tummy tuck, pubic lift, anterior thigh lift, (front of thighs), outer thigh lift, waist reduction, lower back skin excision, buttocks lift, buttock enhancement with lower back fatty tissue, liposuction, spiral thigh lift, as well as fat transfer to the buttocks.
As you can appreciate the completeness of the High-Definition Lower Body Lift that Dr. Agha performs, translates into substantial enhancement. Following the surgery, the patient's abdomen, thighs, and buttocks are all tighter and the buttocks shape is rounder and perkier. Patient's postoperative pictures were taken at about 12 months after her surgery.