FACELIFT & NECKLIFT

BEFORE AND AFTER PHOTOS – PATIENT 7
This 53 year old female presented to Dr Agha for facial rejuvenation. The Patient underwent a Mini-Face Lift, Upper and Lower Blepharoplasty, and Temporal Brow Lift. The patient's mini- face lift gave her a more youthful appearance by tightening her skin and reducing facial sagging. The tightening of the overall appearance of the skin made the patient appear more youthful and the skin appear more rejuvenated. Facial sagging was reduced around the cheeks, eyes, and jaw line, tightening the skin and providing younger looking skin.
The patient's upper and lower blepharoplasty tightened the skin around her eyes. The tightening of the skin around the patient's eyes also helped to brighten and widen her eyes. The brightening of the patient's eyes and the reduction of wrinkles around the patient's eyes also helped to give the patient a more youthful, rejuvenated appearance.
The patient's Temporal Brow Lift also helped to widen her eyes and give her a more naturally refreshed appearance. As well as brightening the patient's eyes, the Temporal Brow Lift lifted the brow and removed sagging skin, helping the patient to tighten skin around the eyes and brow, giving her entire face a brighter and more youthful look. The patient also achieved a natural look, since incisions are hidden in areas that appear to be natural wrinkles. Post-operative pictures are shown at 12 months.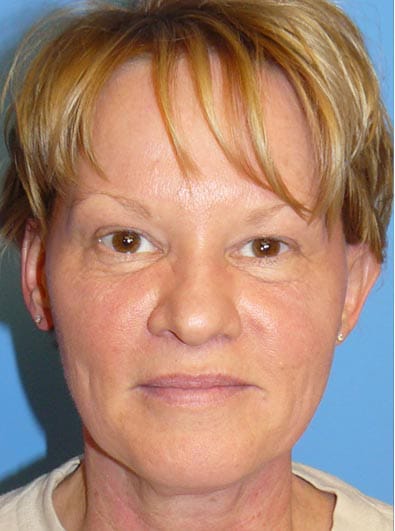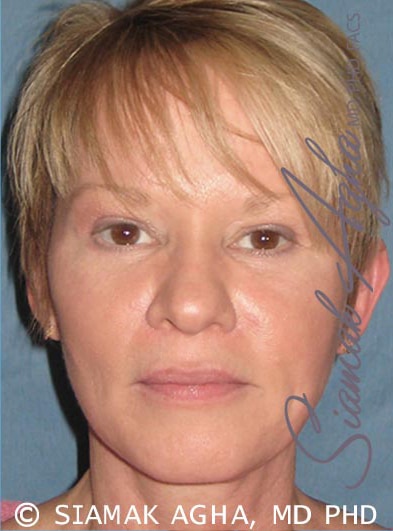 Once you have reviewed the before and after photos related to Facelift Surgery, you may be interested in viewing the skilled work of Dr. Siamak Agha with Neck Lift surgery, Chin Implant, Blepharoplasty or other facial procedures. By close examination of the before and after photos in this gallery, it may guide the consultation process as you may possibly desire a similar result to a specific surgical case. Please request a consultation at Plastic Surgery Body Contouring Center located in Newport Beach, Orange County. Dr, Siamak Agha, a board certified plastic surgeon, and the entire staff is dedicated to understanding and delivering the results you are looking to receive.