FACELIFT & NECKLIFT
BEFORE AND AFTER PHOTOS – PATIENT 4
This 52-year-old female presented to Dr. Siamak Agha for facial rejuvenation. The patient was unhappy with the early signs of facial aging despite her young age.
After considering the patient's desires, Dr. Agha performed a full face lift on her that included a face lift, neck lift, cheek lift, upper blepharoplasty, brow lift, upper lip augmentation, and chin augmentation during a 7 1/2 hours surgery.
The patient's facelift tightened her skin, leaving it looking firmer, younger, and crisper. The procedure also removed wrinkles around the patient's forehead, eyes, mouth and tightened sagging skin around the patient's cheeks and jaw. The upper eyelid surgery removed sagging skin around the patient's eyes, opening and widening her eyes. The brow lift also helped to open and widen the patient's eyes, as well as repositioning the brow in a more youthful position.
Adding fullness to the upper lip helped in balancing her lips. Her lips prior to the procedure were also asymmetrical, so this procedure added symmetry to the patient's lower face. Finally, the patient's chin implant gave her a more prominent chin that enhanced her jaw line. This procedure added an overall symmetry to the patient's face and profile.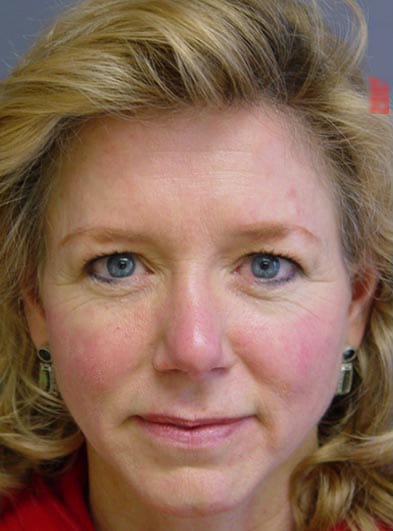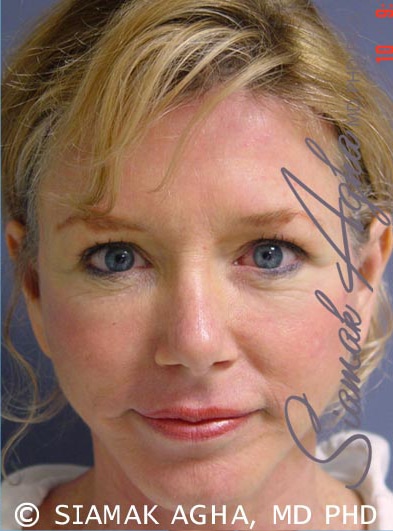 Post-operative face lift photos of this patient were taken at 6 months.