Facelift
Before and After Photos - Patient 3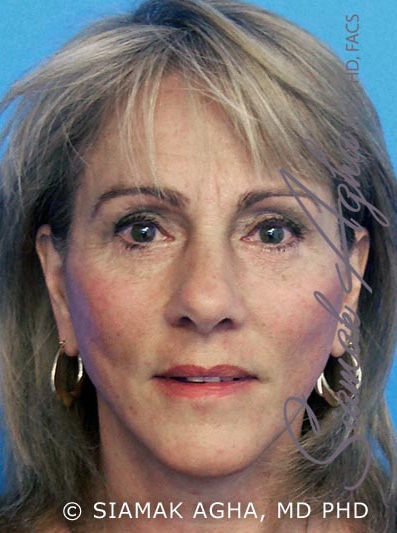 One and half years later after a previous quicklift, brow lift, and lower blepharoplasty by a cosmetic surgeon, this 57 years old female presented to Dr. Siamak Agha for a complete facelift redo. The patient was unhappy with her previous outcome, loss of facial definition, and flattening of her facial contour through the facelift pull. 
The patient underwent a revision facelift, neck lift, and upper and lower blepharoplasty by Dr. Agha as well as fat grafting to her face and cheeks. During the revision facelift and neck lift, Dr. Agha performed complete tightening of her facial and neck muscles and fascia.    
The overall lift of the skin created a smoother jawline and crisper facial skin.  Patient's upper and lower eyelid surgeries also reduced the skin of the eyelids and tremendously enhanced her eye shape and opening.  
Post-operative pictures were taken at 9 months after her face lift revision surgery.