FACELIFT & NECKLIFT
BEFORE AND AFTER PHOTOS – PATIENT 12
T
his woman came to Plastic Surgery Body Contouring Center to consult with Dr. Agha for a redo neck and facelift. She had a previous neck lift and facelift performed by another plastic surgeon; she was very unhappy with the results. Upon examination by Dr. Agha, she was found to have loss of cheek fullness and moderate jowling. The Patient underwent fat transfer to her cheeks, neck lift with tightening of her neck muscles, and a short scar facelift redo. This patient's post-operative photos of her facelift were taken approximately 9 months after the neck lift and facelift procedures.
This patient was beyond happy with her new results that Dr. Agha left her with. She found that she not only looked younger, but felt younger; she also found she had more confidence in the way she looked. Dr. Agha is a board certified plastic surgeon and facial specialist. He takes pride in performing the optimal results; he strives to exceed your expectations. Dr. Agha along with his caring staff will guide you throughout your surgical process; their goal is for you to feel comfortable.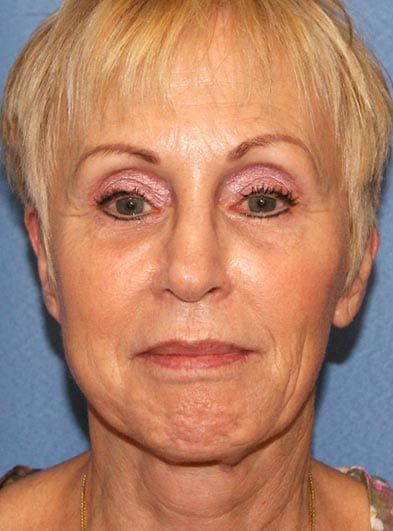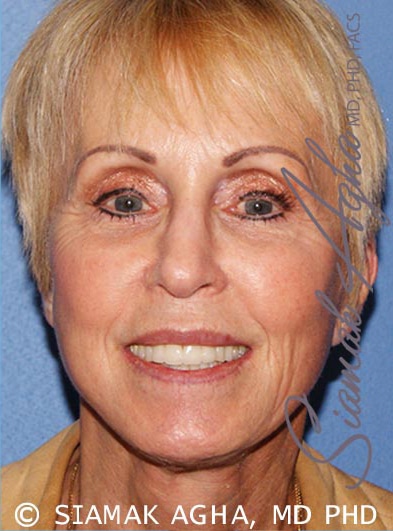 Once you have reviewed the before and after photos related to Facelift Surgery, you may be interested in viewing the skilled work of Dr. Siamak Agha with Neck Lift surgery, Chin Implant, Blepharoplasty or other facial procedures. By close examination of the before and after photos in this gallery, it may guide the consultation process as you may possibly desire a similar result to a specific surgical case. Please request a consultation at Plastic Surgery Body Contouring Center located in Newport Beach, Orange County. Dr, Siamak Agha, a board certified plastic surgeon, and the entire staff is dedicated to understanding and delivering the results you are looking to receive.