ARM LIFT

BEFORE AND AFTER PHOTOS – PATIENT 29
This out-of-state patient in her mid fifties presented to Dr. Siamak Agha for Arm Lift and Breast Lift Revisions as well as outer chest skin excision. The patient had previous surgeries on her arms and breasts elsewhere and was unhappy with her results. She felt that her breasts were too flat and she still had remaining arm excess, especially of the lower arms. The patient did not desire breast implants. Dr. Agha planned an Arm Lift Revision, Breast Lift Revision with use of outer chest and lower chest tissues to augment her breasts, i.e. autologous breast augmentation, as well as a Reverse Tummy Tuck, and J-Upper Body Lift for the patient.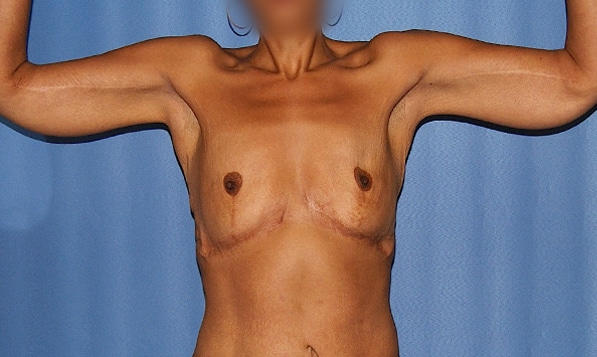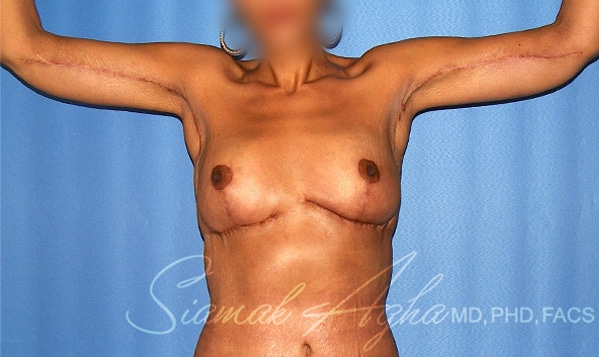 Given the fact that most of the arm excess was on the lower part of her arms, Dr. Agha performed an arm lift to correct her arm shape while removing additional skin and fat. Unfortunately, her arm incisions could not be lowered since it was already placed high. He then extended the arm lift incision into a J-upper body lift incision on the sides of her chest that merged into a reverse tummy tuck incision under her breasts. While removing skin only, the outer chest fat was recruited to increase outer breast volume. Similarly, the lower chest fat was recruited to increase lower breast volume while a reverse tummy tuck was being performed. Thus, the patient had a modest increase in her breast volume using excess fat of the outer and lower chest. This is known as autologous breast augmentation.
Patient's results are seen at about 3 months.